Subscribe to Blog via Email
Introduction
Let me guess.  When you first saw the photo you thought, "What the hell happened to Vin Diesel".  Wrong guy.  That's actually Carlos Rodriguez.  Carlos is a dental hygienist, speaker and stand-up comic.  He combines his dental knowledge with his comedic skills to create CE courses that will make you laugh.  Check out what Carlos has to offer at his website.  Below is the fun conversation I had with Carlos via Facebook Messenger.  At the end of the post you can watch a 5 minute YouTube sample of his stand-up comedy.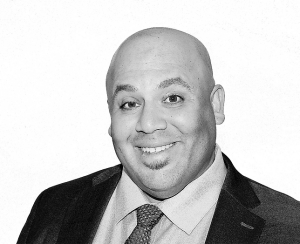 Contact Info
https://www.kingofcomedyrdh.com
kingofcomedyRDH@gmail.com
678-230-6384
Conversation
Mark:  I see you were a dental tech in the Navy.  Is that where your career in dentistry began?
Carlos:  Yes.  The Navy 1987.  Right out of high school.  I turned 18 in boot camp (San Diego).
Mark:  Are dental techs basically dental assistants or are they more than that?
Carlos:  At the time, we were fancy dental assistants.  I did chair side some, but they let me take radiographs for like a year straight.  All day, everyday.  I would tell the ladies that I was the head of the dental radiology department.  I was the only person there.  So….technically true.  They trained us in dental hygiene.  We did prophies, but not scaling or root planing.  We had a real hygienist for that.
Mark:  Did you ever consider doing 20 years in the Navy?
Carlos:  At first, of course. It was an amazing time for me.  Met my wife there.  Learned life long habits, but I wanted more.
Mark:  I had a similar experience in the air force minus the dental stuff. I enjoyed it, but after 10 years I wanted something different.  Where and when did you attend hygiene school?
Carlos:  So you know how I felt.  I went to a small school in Blue Bell, PA. (Montgomery County Community College) and graduated in 96′.  Same year my son was born.  My daughter was 4, I just graduated, a new baby, and we were moving.  It was a stressful year.
Mark:  Have you been working full-time in the clinical setting ever since?
Carlos: Yes!!  Full time++.  I used to do 6 days a week for a long time.
Mark:  How's your body holding up?  I have aches here and there, but nothing bad.  Six days is beast mode bro.
Carlos:  Not good man.  Lol.  Not too bad actually.  I have a bad lower back from sitting weird.  And I need glasses now.  I just can't do the 6 anymore; 4.5 is ideal for now.
Mark:  I work 4-4.5 days a week.  My goal is 1 day per week : ).  Have you experienced any burnout after doing it 20+ years?  I'm getting burned out on the full-time load.
Carlos:  Yeah man.  I burned out about seven years ago.  I still enjoy the people interaction, but it's the monotony that gets to me.
Mark:  I'm very into cycling so I like to compare clinical hygiene to that when I try to explain burnout.  I cycle about 7-10 hours a week.  If I had to cycle 40 hours a week I would start to hate cycling too!
Carlos:  Good analogy.
Mark:  Let's get into the comedy stuff.  When and how did you get into that?
Carlos:  I've always been that funny guy, in grade school, the Navy, and hygiene school.  Class clown.  A student of comedy really.  Used to watch Carol Burnett and Johnny Carson, Benny Hill, Redd Foxx, Richard Pryor, Eddie Murphy, Seinfeld and many more.  Everything funny I loved.  I must have 20 hours of my favorite comics routines imbedded in my brain.  But I can't remember what I had for lunch on Monday.  Ridiculous really.
Mark:  At what point in your life did you think, "I can do stand-up".
Carlos:  I always thought it was magical.  I wanted to try it forever, but I was scared.  So I took a comedy writers workshop in 2012 where you get to perform what you wrote at the graduation.  Scary, but with training wheels.  There's a big difference in being funny around your friends and getting on stage alone in front of a large group of strangers.
Carlos:  You have to be a little crazy, like give me the mic.  I'm going to talk to this group of strangers and they're going to laugh at my words.  It's unnatural to do that, but it's the best drug in the world man: 250 people laughing and you're in control.  It is magical.  When it's working.
Carlos:  It's also the most soul crushing depressing feeling when you do your thing and nothing.  Brutal man!!  You shake it off, learn from the experience and you keep getting up and trying.
Mark:  No pain, no gain.
Mark:  I'm referring to carpal tunnel syndrome.
Carlos:  Lol.  Exactly.  I've paid a fair amount of dues and still have some to work off.
Mark:  Would you recommend a workshop like that to anyone thinking about standup comedy?
Carlos:  I think it's good if you want to learn how to inject some humor into a presentation.  The only way you get better is to get up at open mics everywhere and practice.
Mark:  I find it amazing that comedians, writers, etc. can entertain with just words.
Carlos:  Absolutely.
Mark:  How often do you perform?
Carlos:  I've been lucky.  I don't get to the open mics as much as I used to, but some weekends it's 5-7 times if I'm working at a club.  I also do corporate stuff, colleges, fund raisers where I do from 15-60 minutes, but 45 is the sweet spot.
Carlos:  I have some clips on YouTube.  You can see them on my website; KingofComedyRDH.com
Carlos:  Shameless plug.
Mark:  No shame in that game.
Carlos:  "Thumbs Up Sign"
Mark:  What are your comedy goals?  Full-time stand up?
Carlos:  That would be awesome, but I think my niche is in bridging the two things that make me, Me; teeth and jokes.  That's all I know how to do.  I use humor everyday at work to relax patients and to come across as a real person; not just a clinician.
Mark:  Smart man.  Riches are in the niches or some cliche like that.
Carlos:  Think about a CE course that was legit funny and educational.  It doesn't have to be serious man.  It's not brain cancer you know.  Most people will walk out of the dental office.  Might be missing a tooth or two.  But you're walking out.  Everyone has their own style.  I'm not knocking anyone.  I'm just saying let's keep it light and easy.
Mark:  I think that's the way to go.  Funny CE courses.  Most people just go to get credits and not pay attention.  Why not put on a show.  Two OSHA inspectors walk into a bar…
Carlos:  Exactly.  Why not a show of sorts that's educational.  You should hear some of the crazy stories I tell my patients.  I can get along with anyone.
Mark:  And I think you would be hard to replicate, because you have a real comedic skill and you're a hygienist.  Boom!
Carlos:  That's what I've been saying!!!  I have to be nice and funny.  I look like an overweight Vin Diesel.
Mark:  I wouldn't say overweight.  Robust may be more accurate.
Carlos:  You're polite.  I appreciate it, but I'm good.  Can't hurt my feelings.
Mark:  What courses are you offering now?
Carlos:  I call it stress relief 101 and a team building / patient care course.
Mark:  Any plans to add more courses?  Where do you typically teach theses courses?
Carlos:  Yes, definitely.  I'm planning a communication course soon, and others.  But that's a pet peeve of mine; poor communication skills.  And also people that say pet peeve.
Carlos:  I'm working closely with Mr. Smiles at Sea, Elijah Desmond and going across the country with his organization.  He's been very generous with his time, experience and contacts.
Mark:  Are the corporate gigs, fund raising events, etc. typically dental related?
Carlos:  No, not at all.  I've done a few holiday parties for dental offices and it's always a great time, but I've done comedy at retirement communities, churches, drug rehabilitation, fund raisers for everything from animals to mission trips, and sometimes just because.
Mark:  If you could, would you do this stuff full-time and give up clinical hygiene?
Carlos:  Definitely man!  If I could feed my family telling jokes and bringing info and smiles to my peers, then I beat the system.  I won at life.
Mark:  I think you can do it brother.  It may take a few more years of grinding, but I can picture you doing it.  If I ever see your name on the CE course list at Yankee in Boston I'm signing up!
Carlos:  Please do.  It's going to be fun.
Carlos:  I'm having a blast.  I leave work some days, change and hop on stage.  It's crazy, but it's the most fun ever.  It's my therapy.  Lol.  I'm excited to see where this is going, but I'm trying to change the Continuing Education game one talk at a time.
Mark:  You don't have to share numbers of course, but is this work bringing in a part time income for you or are you still in the building stage?
Carlos:  Yeah man.  I'm doing ok.  I can't believe it really.  And hopefully I'll be able to segue into full-time speaking/performing.
Mark:  What is your method for writing jokes?  Do you jot things down through out the day, sit at a computer and write whatever comes to mind, go on stage with a general idea and just improvise?
Carlos:  Most of the jokes start off with some truth.  I'll jot down some premises and then work it out on stage in front of real people.  I record everything, so I can listen to the tone, tempo and intensity.  It's how you say something as well as what you're saying.  Sometimes something hits you while on stage and it just works.  You couldn't do that at a desk.  It's not organic that way.  So I listen, rewrite and condense.  Filter out all the unnecessary words and keep the good stuff.
Mark:  Like building a sculpture.  Take stone away, not glue shit on.
Carlos:  Yes.  Take away everything that's not funny.
Mark:  Would you consider yourself a clean comic?
Carlos:  Mostly.  Lol.
Mark:  Not Brian Regan clean, but clean : ).
Carlos:  I write everything clean.  I've done the late night sets and been in rough neighborhoods doing comedy.  Brian Regan is a genius.  I've seen him several times. I can talk comedy all night brother.  Sure you want to go there?
Mark:  I love comedy too.  I especially love podcasts with comedians like Joe Rogan and Chris D'Elia.
Carlos:  Funny dudes.  Check out This Past Weekend Podcast with Theo Von.  Dude is super funny and a wizard with words.  Worked with him in Atlanta last summer.
Mark:  I like him too.  Very unique.
Carlos:  I'm a huge comedy fan too; not just a practitioner of the comedic arts.  I think the dental world is ready for a different style of CE.
Mark:  Carlos, I don't want to keep you too long and its my bedtime : ).  I think I hit everything I wanted to ask.  Do you have anything you want to close with?
Carlos:  No man.  This has been a lot of fun.  I really appreciate the opportunity and I hope I didn't bore you.
Mark:  Not at all.
Video

Mark Frias, RDH